ITMA latest news
YOKOHAMA celebrates 100th anniversary
Since its foundation in the city of Yokohama, Japan in 1917, The Yokohama Rubber Company has evolved into one of the leading global tyre manufacturers and in 2017 celebrates its 100th anniversary.
Established as a domestic manufacturer of rubber products essential to the modernization of Japan, the company has survived numerous domestic, global and economic challenges, including the Great Kanto Earthquake of 1923, the Second World War and the 1965 economic recession, overcoming them all to become a global enterprise with headquarters in Tokyo and a presence in 120 countries.
Recognised for pioneering tyre technology and innovation, today YOKOHAMA manufactures a comprehensive and growing product range of award-winning premium tyres for passenger cars, SUVs, trucks and buses, OTRs and competition cars.
With a growing number of tyres selected as original equipment by many of the world's leading vehicle manufacturers including Porsche, Mercedes-Benz and Audi, Yokohama's racing products are used in many high-profile motorsport series around the world such as the FIA World Touring Car Series. Alongside its high-profile motorsport activities, Yokohama is the official shirt partner of Chelsea FC, giving the brand further extensive global exposure.
"We are extremely proud of both YOKOHAMA's heritage and progression as Japan's oldest tyre manufacturer. YOKOHAMA continues with its essential philosophy to contribute to society by creating beneficial products, to enrich people's lives and contribute to their greater happiness and well-being. We do this by continuing a long tradition of technical innovation, offering drivers the highest levels of performance and safety," comments Mr Keishi Hashimoto, president of YOKOHAMA Europe.
David Seward, Managing director of YOKOHAMA's subsidiary Yokohama HPT Ltd stated "During this landmark year, we have released three new tyres to the UK market and have a number of other new products in the pipeline to be announced later in 2017. Our aim is to continue our strong tradition of being a premium tyre manufacturer that meets and exceeds our customer needs."
"We are proud to be a founder member of ITMA and fully appreciate the benefits associated with this influential and growing trade association of like-minded members."
In connection with its 100th Anniversary global celebrations running throughout 2017, the Japanese premium tyre manufacturer YOKOHAMA has launched a historical micro-site which highlights the different milestones in the company's history and products.
To find out more about YOKOHAMA's 100 years of history, visit here.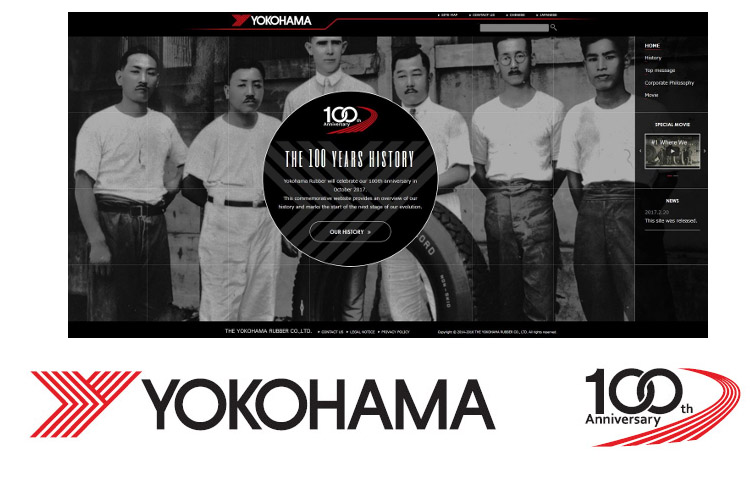 Tags: Tags: Automotive, birthday, celebration, Tyres, Yokohama